Dr. Maria Pozza, Space Lawyer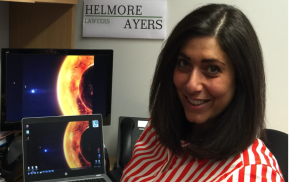 Dr. Maria Pozza completed her PhD with the Faculty of Law and Department of Politics at the University of Otago, in December 2013, and graduated in May 2014. Her thesis, titled "The International Law and Policy of Outer Space: A New Perspective on Arms Control", has received much media and scholarly attention and her work has been published and presented widely.
Dr. Pozza was admitted as a Barrister and Solicitor in April 2014 and Called to the Bar by the Honourable Society of Lincoln's Inn, UK in 2005.  She is a member of the International Institute of Space Law and has acted as one of the Asia-Pacific Moot Court Judge for 5 years.
Dr Pozza has been the recipient of several prestigious external research awards including: The Peace and Disarmament Education Trust Research Grant; The Ministry of Foreign Affairs and Trade Historical Research Grant; and the Claude McCarthy Fellowship Grant, among others.  She was awarded a Lauterpacht Visiting Fellowship at the Lauterpacht Centre for International Law, University of Cambridge (UK) in 2013.
 Dr Pozza has had her expertise called upon by both national and international bodies, and has appeared as a guest lecturer at several prestigious law schools around the globe.  She is presently working on a book titled "Arms Control in Outer Space", and is working on several projects concerning general principles of international law.  Presently, Dr. Pozza is a Barrister and Solicitor at Helmore Ayers Lawyers, a Christchurch based law firm, where she works as a Consultant Lawyer and advises on International Space Law, General International Law and General New Zealand Law. 
More information is planned in this section, including
Treaties
Catalogue of applicable laws
New Zealand's space policy
KiwiSpace's Position on laws/policy (or link to