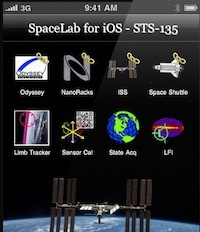 First iPhones in Space Launching on Last Shuttle Mission, Space.com (10 June 2011)
Two iPhone 4 smartphones loaded with an app to help astronauts perform experiments in space will launch aboard NASA's shuttle Atlantis on July 8. They will be the first iPhones to fly in space, officials say.
Mark's Comments: All I can say is, finally! Sure, Androids and iPhones have gone up in rockets and balloon, but that's low altitude. We finally get to see some decent technology floating around the space station, not the boring looking IBM ThinkPads. Yes, I'm definitely a apple-fan.
Now what they really need of course is the iPad. Every decent sci-fi movie since Star Trek has had crew members walking around the spaceship or space station with an iPad-like device.
But they'll be doing real experiments with the iPhones. A number of applications have been built to test gyroscopes, use the camera for navigation, etc. So it's not all fun. Although you do have to wonder if along with the 'official apps' they also have a copy of Angry Birds installed on there, or the Space Shuttle Landing simulator ... although that obviously has limited value now. I wonder if they do get to play games in their down-time? I bet the number of tweets would go up substantially. Maybe some planking in space photos?
According to the article, the iPhones will be returning to earth on a Soyuz later in the year. But you seriously have to wonder whether the astronauts will want to keep them.
I wonder if there is potential to have the iPhones become more of a standard experiment platform? You can imagine for life-science data collection it would be great, especially if you pair it with sensors along the Nike Sport Kit. Perhaps students could design apps that have literally a few days of experimental use.