KiwiSpace celebrates 50th anniversary of human spaceflight with photos from the edge of space
AUCKLAND, NZ, 11 APRIL 2011 – KiwiSpace Foundation has successfully launched a helium balloon above the Waikato and recovered its payload of cameras, tracking equipment and breathtaking images from the edge of space. While the MetService launches meteorological balloons regularly, KiwiSpace believes this is the first balloon launched with the goal of capturing images of New Zealand and space from very high altitudes.
KiwiSpace, a new non-profit organisation dedicated to making space accessible to all New Zealanders, chose to launch the balloon on Sunday to honour the golden anniversary of human spaceflight and to celebrate the official incorporation of the Foundation. Fifty years ago on April 12, 1961, Russian Yuri Gagarin became the first man in space when he boarded spacecraft Vostok-1 and blasted off at 6:07am UTC (6:07pm NZST). He made a single orbit of the Earth and touched down again safely in the rural USSR 108 minutes later.
The KiwiSpace balloon was launched at 8:48am on the morning of Sunday 10th April, climbed to over 51,000 feet (15.5km) before popping and landing just east of Pirongia, near Hamilton. Recovery teams reached the payload at 11:12am and were delighted to find it intact and still taking pictures.
Images and video of the flight will be made available to the public through the KiwiSpace website - http://www.kiwispace.org.nz/ from Tuesday 12 April.
William Leizerowicz, lead for the KiwiSpace "Edge of Space" project said, "Recovering a balloon in New Zealand has its challenges. New Zealand has a relatively narrow landmass, making it highly likely to lose the payload in the ocean. Using forecasts of high altitude winds has been essential in the recovery of our payload over land."
KiwiSpace teamed up with the New Zealand amateur radio community to provide real-time tracking of the balloon, and LandSAR to assist if the payload had landed in less-accessible terrain.
KiwiSpace hopes to build on this initial flight and develop a programme of high altitude balloon launches involving schools. Students could assist with areas such as component design, flight path prediction and tracking, or scientific experiments to accompany the payload.
The mission, excluding time volunteered by the project team, has cost around $3000, and has been funded by members and sponsors. Mark Mackay, executive director of KiwiSpace said, "This mission proves that for a relatively low cost you can take stunning photos that are normally reserved for multi-million dollar satellites."
This first launch was a lightweight payload of around 520 grams, containing:
Canon digital camera, with custom firmware to provide time-lapse photography;
GPS and altimeter that transmitted the balloon's location and altitude using the amateur radio Automatic Packet Reporting System (APRS);
Radio beacon to assist with directional location by the recovery crews; and
Mobile phone, to provide additional location information and pictures.
Future launches will include additional high-resolution cameras, and more advanced tracking and release mechanisms.

PRESS IMAGES AND VIDEO
Images associated with this media release can be found on our media releases portal at: http://www.kiwispace.org.nz/x/SICm
HD video footage of the payload assembly, release and recovery is available on-request, by contacting Mark Mackay on +64 21 622 379.

ABOUT KIWISPACE
KiwiSpace Foundation is a new non-profit organisation seeking to make space accessible to New Zealanders. The Foundation aims to showcase the benefits and opportunities that space applications provide NZ; highlight the many opportunities for New Zealanders to work in the global space community; and enhance national space capabilities and education programmes. To learn more about KiwiSpace, visit http://www.kiwispace.org.nz

MISSION CONTACT
Will Leizerowicz
will.leizerowicz@kiwispace.org.nz
+64 22 600 6368

KIWISPACE CONTACT
Mark Mackay
mark.mackay@kiwispace.org.nz
+64 21 622 379
PO Box 301780, Albany, Auckland 0752, New Zealand.
Attached Images
Featured Images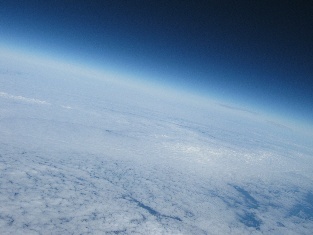 Stunning view of the atmospheric boundary and the cloud layer far below, returned by the balloon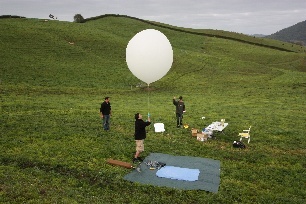 The Balloon, just before launch
See below for all images associated with this release