Excerpt

Mission patch for the crew 118 was revealed today.

According to NASA, for every space flight, the astronaut crew designs their own mission patch. Included in the patch design are various elements describing the different phases of that particular mission. Usually, in the design includes the names of the crew, the name of the space vehicle and its mission number. Although we will not be going to space, there is a tradition at MDRS that says every crew stationed there must have its own mission patch. And ever single crew had one so far. We are the 118th crew to go to the Mars Desert Research Station, in the last 10 years since the station was activated and the first from New Zealand.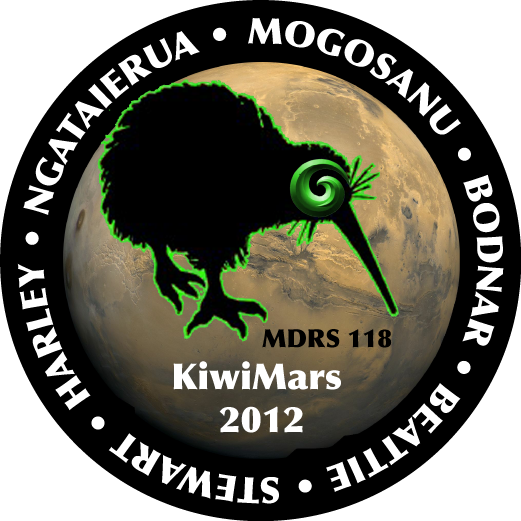 With this occasion we prepared a resource sheet about Mission Patches, for you to use in school in the hope that you will be designing your own mission patch whilst you will be interacting with us on 'Mars'.
Panel
Make sure you check this page on our site for accessing all the resources we prepared for you. They are under construction for now and hope to have them all finalised by the time we are "Off to Mars".
Since our mission was called 'KiwiMars' even before we had the patch, we wanted to have a Kiwi bird on it. And what other colour to use for outlining it than the beautiful kiwi-green of the fruit that made us famous to the world!
Then we chose a Koru, a Maori symbol that stands for New Life, Growth, Strength and Peace. The circular shape of the koru symbolises perpetual movement while the inner coil suggests the return to the point of origin.
New Life, Growth, Strength and Peace are our wishes for the future as we are setting sail to learn about our place in the Universe, and through astrobiology about our stellar whakapapa. We humans, also hope to seed life on Mars if there is none, discover the strength of the many as it takes a planet to terraform another planet and in general we simply hope to play an tiny part in the great scheme of things.
"He tini nga whetu e ngaro I te kapua iti
Many stars cannot be concealed by a small cloud!"
Whakatauki gifted by Bruce Ngataierua whois our Maori Crew member
To me this whakatauki signifies our strive to become a spacefaring civilization. The stars are there waiting for us, no matter how many clouds we will be seeing onto the skies. However the rain is good too as it brings nourishment and we wish to see rain on Mars sometimes in the future!
May the Rain fall and then have Clear skies everyone and Happy Patch Making!
The Commander of the Trans Tasman Green Kiwis