This stunning image was acquired by NASA's Aqua satellite, capturing New Zealand in spectacular colour, surrounded by clouds.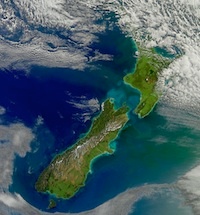 Turbid Waters Surround New Zealand, NASA Earth Observatory (2011-05-28)
Runoff from heavy rains, combined with wave action along the coast, increased the turbidity of New Zealand's waters when this image was acquired on April 29, 2011. The Moderate Resolution Imaging Spectroradiometer (MODIS) on NASA's Aqua satellite captured this view of sediment flowing in the Pacific Ocean.
Download full-size image (20MB).